Magic Wands: at 76ers 4/11
| | | | | | | | |
| --- | --- | --- | --- | --- | --- | --- | --- |
| | Score | Time Left | Off. Rtg. | eFG% | O.Reb.% | TOR | FTR |
| Orlando | 95 | | 112.8 | 50.6 | 45.2 | 13.6 | 17.5 |
| Philadelphia | 85 | Final | 96.8 | 45.7 | 17.8 | 9.4 | 12.2 |

Philadelphia, Pa.
(50-30) vs. (41-39)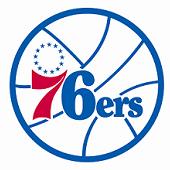 Time/TV: 7 p.m./FSN
Line: 76ers by 2
Tickets: $19-$130 on TiqIQ
Season Series: Lost 97-89 in Orlando on Dec. 18; Won 99-98 in Orlando on Jan. 19; Won 99-95 in Philadelphia on Feb. 9; Tonight in Philadelphia
Video Vault:
1) Dwight Howard's absence was felt in Orlando's loss to Chicago as Derrick Rose dominated, Sam Gardner of Fox Sports Florida writes. The Magic certainly gave a pretty solid effort. Some players were conceding, you might be able to count it as a moral victory. They certainly played well without Dwight Howard.
2) Stan Van Gundy says he has no plans on limiting Dwight Howard's minutes in the final two games of the season.
3) Andre Iguodala will miss tonight's game with knee tendinitis, Dei Lynam of CSN Philadelphia reports.
4) The 76ers are also very much in prepare for the Playoffs mode. They took Saturday off and coach Doug Collins was thrilled with their ethic on Sunday. Meanwhile Lou Williams continues to rehab an injury that will keep him out tonight so he can be ready for the postseason, Bob Cooney of Philly.com writes.
5) J.J. Redick made the trip to Philadelphia, but did not participate in shootaround and is officially out of tonight's game, Josh Robbins of the Orlando Sentinel reports. Gilbert Arenas also experienced stiffness in his left leg and did not participate in shootaround. He is questionable for tonight's game.
6) It may be a little silly to call Ryan Anderson a center, but, Brian Schmitz of the Orlando Sentinel writes, he filled in admirably for Howard during his one-game suspension.
7) Jameer Nelson may have upset some Hawks fans when he told Derrick Rose he would see him and the Bulls int eh second round.
8) Orlando Sentinel columnist Brian Schmitz answered some reader questions about Dwight Howard, his MVP candidacy and referees.