It has become a mini drama each game -- waiting to see if Al Harrington will make his Magic debut.
When Orlando acquired Harrington in the Dwight Howard deal, it was expected he would provide some veteran leadership and a stretch-4 that would enable the Magic to go small occassionally. Yes, the Magic knew they would have to wait after an infection following surgery prevented him from taking to the floor.
It has been a long time though. He has told Josh Robbins of the Orlando Sentinel on one occassion that he can see "light at the end of the tunnel." Robbins has aptly described Harrington as the new toy in the box that the Magic have not been able to play with quite yet.
Yet, we are still waiting.
Harrington has been working hard behind the scenes to be ready to play. His jumper looks as smooth as ever and surely his conditioning is getting to a level where he can play.
For the first time on Friday, he was in uniform. Out of necessity, yes, so the Magic could reach the minimum eight active players. But he knew pretty early he was not going to play. The same happened Saturday as he was in uniform again.
He started the game with his patented head band on. By the middle of the first quarter, he was fiddling with it in his hand. Shortly after, it was wrapped around his wrist. It might as well have been a definition of his season -- a series of false starts.
Jacque Vaughn said following Friday's loss to Memphis that the team will keep to its schedule and plan in bringing him back. Like most injuries this year, that has meant waiting until the player was absolutely ready to return. That is in line with the "development-focused" approach where Orlando is working to get young players more playing time and experience.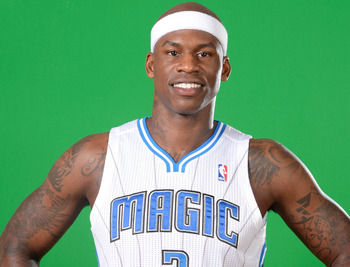 Harrington likely is very close to making his Magic debut. He has been traveling and practicing with the team with little restrictions since mid-January.
It would seem kind of silly that the Magic would keep him on the roster as they have without playing him. However, it still remains likely that Orlando will consider buying Harrington out of the final two years of his contract -- the final two years of his deal are only guaranteed for half of its value.
Then again, Al Harrington could still have value in a trade if he can come back healthy. So it would benefit the Magic to show he can still play. During his 14-year career, Harrington has averaged 13.8 points per game and shot 35.3 percent from beyond the arc. Last year in Denver, Harrington averaged 14.2 points per game in 62 games before injuries snet him to the sideline.
Until he finally plays, his presence on the bench continues to entice Magic fans. We are all getting impatient with this process and Harrington wants to play as much as anyone.
Im trying.... RT @jdub2009: Al Harrington needs to earn those checks

— al harrington (@cheddahcheese7) February 23, 2013
Here is hoping that Tuesday is the day.
@OMagicDaily Don't you want to do worse and develop rookies at this point. Seems like harrington would be a negative taking minutes
@OMagicDaily U mean grant hill!?!?
@OMagicDaily yeh now JJ has gone we dont half need Als experiance and quality to help the young players along.