Nikola Vucevic's improvement rewarded
Nikola Vucevic was named to the BBVA Compass Rising Stars game as one of the top first and second-year players in the NBA on Wednesday, joining a roster pool that includes All-Star Kyrie Irving, dynamic rebounder Kenneth Faried and sharpshooter Klay Thompson. I really is a just reward for Vucevic after standing out in the first half of the Magic's season.
Vucevic is one of five second-year players to appear in this year's game after failing to get selected for last year's game as a rookie. The rosters will be drafted for the Feb. 15 exhibition game next Thursday on TNT by team captains Shaquille O'Neal and Charles Barkley.
Last year, Vucevic's name did not even sniff the competition as he got inconsistent playing time from Sixers coach Doug Collins and did not have the freedom to make mistakes on a team competing for the postseason.
When Orlando acquired Vucevic, nobody seemed to know what the team had in the 6-foot-10 center out of USC. His rookie year saw him only get 15.9 minutes per game average 5.5 points and 4.8 rebounds per game. Limited minutes means limited numbers.
The trade to the Magic gave him the thing a young player needs -- playing time and the chance to make mistakes and keep playing. The high pressure of a Playoff race in Philadelphia did not give Vucevic that chance and inconsistent playing time followed.
This year, though, in 32.4 minutes per game, Vucevic is averaging 11.9 points per game and 11.2 rebounds per game. He is shooting 52.6 percent from the floor and has shown a comfort stepping out of the paint and taking those jumpers -- shooting a decent 43.8 percent from 10 to 23 feet. His per 36-minute numbers have improved last year as Vucevic has gained more confidence and played well for the rebuilding Magic.
"Last year I didn't play every game and I was up and down and it was first year," Vucevic said back in December before Glen Davis' shoulder injury. "So this year, being able to play more and get more playing time will help my experience will help me become consistent as well."
Vucevic said he has had to focus on staying aggressive and finding ways to contribute even when his shot is not falling. For a young player, this can often be the biggest challenge -- learning how to stay engaged while not receiving the ball as often. For this, the presence of Glen Davis, J.J. Redick and Jameer Nelson has probably helped most as team leaders.
Vucevic rarely has an all-around poor game. He is still good for his rebounding and activity around the basket even if he is not making those little jumpers or getting the ball much in the post.
His strong rebounding numbers have been the biggest surprise and this is where his improvement has really shown. After all, for a franchise that has had Shaquille O'Neal and Dwight Howard, it is Nikola Vucevic who holds Orlando's single game record for rebounds in a game with 29.
"[Vuc has] been great. He has been extremely consistent for us, especially on the rebounding department on both ends of the floor," Jacque Vaughn said in late December. "He's been big because he rebounds out of his area. He gets some balls that some bigs won't get. Whether it is tipping it and gaining possession of it or tipping it out and a small gets possession of it. Those small things go a long way."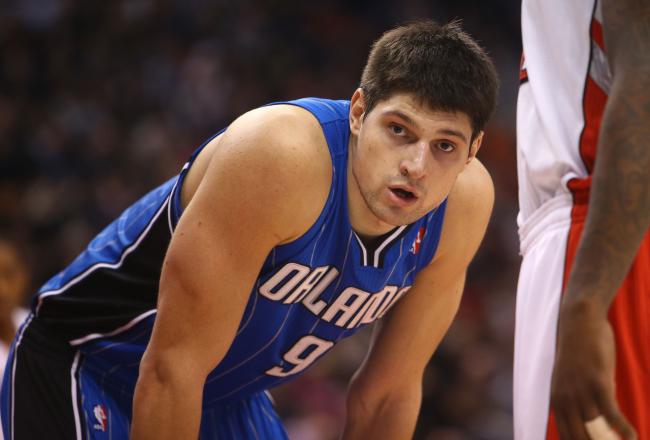 Vaughn went on to say Vucevic has done the little things on the glass to make sure the Magic get possession. Indeed, Vucevic has posted a 27.3 percent defensive rebound rate and a 12.3 percent offensive rebound rate.
Vucevic has done what you must ask of young players: take advantage of the opportunities presented to them.
Now it is time for Vucevic to reap some praise. Getting the invite to Houston for the BBVA Rising Stars Game is a big first step. So too is the growing buzz that Vucevic is in the running for the league's Most Improved Player of the Year Award.
Kels Dayton of Sheridan Hoops ranks Vucevic as third in his Most Improved Player power rankings behind surprise All Stars Jrue Holiday and Paul George. Much like Ryan Anderson (last year's Most Improved Player of the Year), Vucevic has taken advantage of the minutes and has seen a slight PER improvement from 14.3 to 17.5. That is impressive considering the significant amount of minutes Vucevic has seen compared to last year.
Those accolades may come at the end of the season. For now, Vucevic is seeing improvement every day and appears to be getting more responsibility on both ends of the floor as he continues to grow.