Hope for the distant future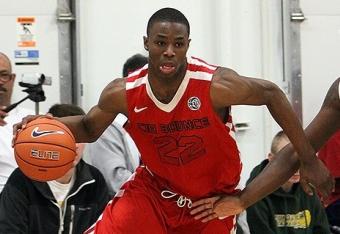 This season has been tough.
The losing sucks and the thought of having the worst record in the league sucks even more. Alex Martins gave us the familiar line after the season ended last May and after the Dwight Howard trade -- the Magic have made the Playoffs 14 times in their 23 year history (now 24 years, I guess since it is official that the Magic will not be going to the 2013 Playoffs). There is an expectation that Orlando will be in the Playoff hunt because of this.
So this year is strange. It is not like everyone did not know the Magic would struggle this year. That was understandable. The reality of it though is a little bit jarring.
Especially in a year when the Draft is not so hot.
It seemed if Orlando was going to be patient this would be a two-lottery proccess and the franchise would sacrifice both this season and next to build franchise cornerstones.
And then this comes out (h/t Deadspin):
That, boys and girls, is the hope for all the lottery teams of 2014. That is Andrew Wiggins of Huntington, West Virginia, by way of Canada. This is the guy all NBA and basketball fans need to start getting excited about.
Not to overhype.
The McDonald's All-America Game is coming up next Wednesday (April 3) in Chicago and Wiggins will be there . . . all 6-foot-8, 205 pounds of him. This guy is a high school senior. Probably the best one since Dwight Howard or LeBron James. He WOULD be the number one pick in this year's draft if he were eligible.
Why should you care now though?
First, watching the Magic is hard and so any piece of hope for the future is a good thing. Second, the Magic clearly want to build through the draft and so they will likely be looking at another lottery pick this year. And judging by the way this team is performing, it could be another high lottery pick.
The consolation prize is not bad next year either. That would be Chicago, Ill., product Jabari Parker. He will be playing opposite Wiggins in teh McDonald's All-America Game next week.
For now, all we can do is dream. 2014 is so far away.
And, I guess keep watching the NCAA Tournament and hope Ben McLemore turns things around and Cody Zeller and Victor Oladipo keep advancing.