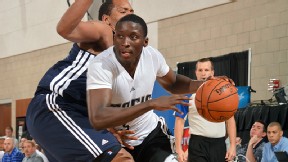 I am admittedly still cleaning up my notebook from Summer League a month ago. That week gives you a treasure trove of story ideas and storylines to follow, not mention quotes and information. I do not believe I am sitting on anything too important (I covered most of the major Magic storylines I wanted to cover on this site already).
One of the key storylines throughout the week was point guard play. The Magic notably were experimenting with Victor Oladipo at point guard and were generally pretty happy with the results despite Oladipo admitting he was a bit of a fish out of water.
The other point guards to watch that week were Trey Burke of the Jazz and Michael Carter-Williams of the 76ers. Both had their ups and downs throughout the week. Burke struggled with his shot and that seemed to cloud his entire performance. Carter-Williams was probably given too much freedom to do what he wanted and seemed to be missing shots left and right and turning the ball over in the middle of some decent distribution and point guard play.
For all three -- along with Patrick Beverley of the Rockets, Jeremy Lamb and Reggie Jackson of the Thunder and Tyshawn Taylor of the Nets -- the week was a learning experience. I recounted what was learned and what needs to be improved on for Crossover Chronicles today:
no comments